Entry Closed!

MKH SEREMBAN INTERNATIONAL 12 HOUR WALK 2014 Updated: 1/11/14

MUST KNOW!
(

New!

)

Extended RM95.00 Entry

to 23 Nov, 2014! No more Late Entry RM150! Updated 1/11/14
(New!) Changed of route map (view here) - In front of Majlis Perbandaran Seremban Updated 1/11/14
(New!) Mix Team Category entry fees Is FREE! (Must first registered as an individual- 4 walkers 1 team, at Least 1 Female)
(New!) Mix Team Cash Prizes: 1st-RM300 / 2nd-RM200 / 3rd-RM100
(New!) Increased distance for Men 40KM, Women 30KM for getting the 'Achievement Medal'
(New!) Paper/By Hand submission will be imposed additional RM5.00 for processing fees.
Discount RM10.00 for RWAM Member will be reimbursed on 6/12/14, Sat(2pm-7pm).
Remain entry fees: Only RM95.00 / Normal RM115.00 / Late Entry RM150.00 Updated 1/11/14
The race will closed once reached 1,000 Walkers or 23 November 2014.
This is a WALK event, you MUST NOT run or jog!
Participant may rest, eat, and use the washroom during the event.
Camping is allowed, please prepare own camping equipment.
Self prepared food is allowed.
Participant is not allowed to walk out from the competition ground. Any accident 'WILL NOT' be responsible by the organizer.
Achievement Medal will be awarded starting at 5:00am onwards on 7 Dec 2014.
In order to be qualified for receiving cash prizes, the walkers must cover at least 50KM Men, 40KM Women Category in 12 hour walk. - Claus 9.01
Number bib collection / Walkers reporting time: 6 Dec 2014, Saturday 2pm-7pm at Dewan Perbandaran Seremban (Google Map)
YOUR ENTRY FEES INCLUDE...!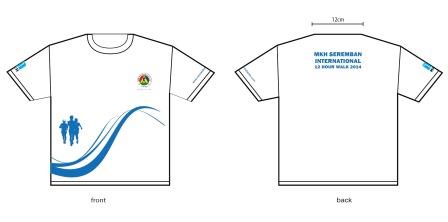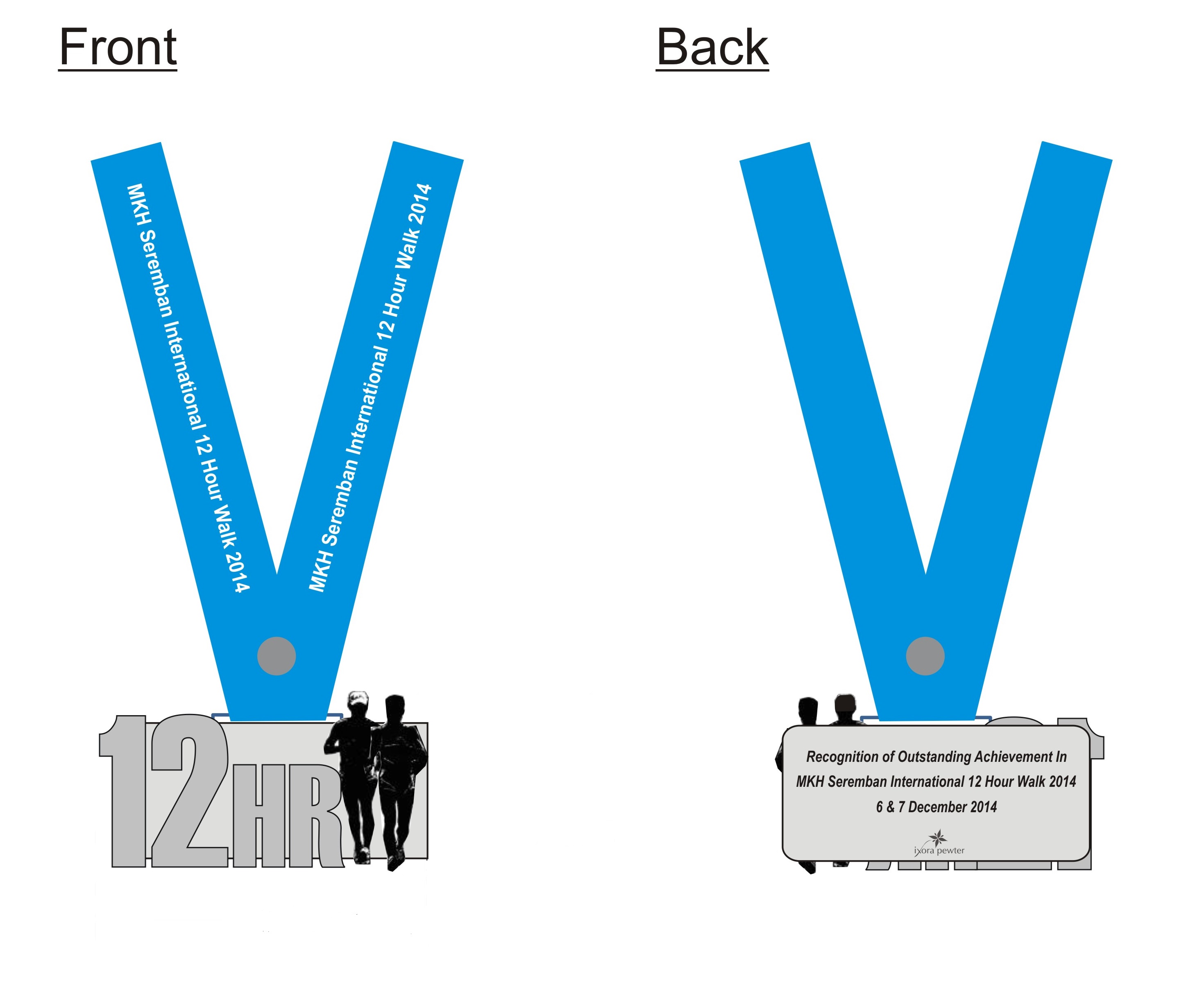 Walkers' Number Bib, T-Shirt & Other Sponsors' goodies.

Four (4) Refreshments / Meals (Halal: Healthy Food) provided during the 12 Hours (11pm, 2am, 5am & 8am).

Ever ready professional medical team (12 Hours) to assist (Foot & Leg Treatment / Massage).

Unlimited Isotonic / Coffee & Tea / Drinking Water for the 12 Hours.

One (1) Achievement Medals (Minimum Distance - Men's 40KM, Women 30KM) - Claus 8.06

One (1) eCertificate of Participation (Minimum Distance - 10KM) - Claus 8.05

Start: December 6, 2013 – 2000 hours (Sat) - 8.00pm Sharp

End: December 7, 2013 – 0800 hours (Sun)

Registration Fees: 12 Hour Walk + 50KM + Mixed Team [3 in 1 Package]

Closing Date: 23 November 2014

ONLY RM95.00 - Before Nov 23, 2014 - Extended!

RM115.00 - Oct 6 to Nov 2, 2014 (Normal Entry)

RM150.00 - Nov 3 ~ Nov 23, 2014 (Late Entry)

(RM10.00 discount for RWAM Member)

Download: New Route Map - Updated: 1 Nov 2014
REGISTRATION:
OPTION 1: Online Registration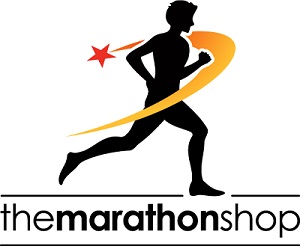 In supporting with "Go Green", RWAM strongly encourage participants to register online through our Official Registration Partner www.themarathonshop.com.my
OPTION 2: By hand

RWAM Office (Mon-Friday)

Walkers who wish to submit their entry forms by hand to RWAM office. You may submit it to No 39, Jln SS5A/6, 47301 Petaling Jaya.

[view map]

-----------------------------------------------------------------------------------------

*IMPORTANT NOTICE:

Paper/By Hand submission will be imposed additional RM5.00 for processing fees.
Entry forms can be photocopied.
Soft copy can be downloaded from this page.
NO CASH submission.
Please make payment before submitting to the RWAM office. Either by Online transfer/Cheque Deposit/Cash Deposit to RWAM Maybank A/C.
Submit your original payment slip and entry form to us.
Keep a copy of payment slip and entry form for your own references.
Receipt will be issue upon request.

----------------------------------------------------------------------------------------

-------------------------------------------------------------------------------------------------

BANK ACCOUNT INFO:

Name: Persatuan Lumba Jalan Kaki Malaysia

Bank Number/code: 514 011 717 390 - MAYBANK

Bank Country: MALAYSIA

Bank Branch Address: No. 100, Jalan Tun Perak, 50000 Kuala Lumpur.

SWIFT Code/IBN Code: MBBEMYKL

Bank Account Currency: Ringgit Malaysia (RM)