12 HOUR WALK CERTIFICATE IS READY!
Please key in your bib number (Example: 2224) to download your certificate. [Download Certificate]
Once pressed [Enter] the certificate will automatically download into your computer.
Check your Number bib, Name & Particulars!
Please double check your Num bib Name, Category, Country and T-shirt.
Names are listed according in alphabetical order (A-Z).
Please assist to check for your friends and inform them as well.
If you found an ERROR, kindly email to racewalkermalaysia@gmail.com before 30 Nov 2013 for amendment.
Please download the .pdf file for better viewing.
Number collection is on 7/12/2013, Saturday (2.00pm - 7.00pm) at Lobby Auditorium Cempaka Sari, Perbadanan Putrajaya (Next to Malaysia Airline).
No confirmation letter is needed. Just inform us your number bib and bring your I/C.
Please arrive EARLY to find your best parking spot and to AVOID traffic jam!

Update: 22/11/2013
MKH PUTRAJAYA INTERNATIONAL 12 HOUR WALK 2013 Updated: 10/10/13

MUST KNOW!
New entry fees: Early Bird RM95.00 / Normal RM115.00 / Late Entry RM150.00
The race will closed once reached 1,000 Walkers or 7 November 2013.
Baggage Fees is FREE OF CHARGE.
This is a WALK event, you MUST NOT run or jog!
Participant may rest, eat, and use the washroom during the event.
Camping is allowed, please prepare own camping equipment.
Self prepared food is allowed.
Participant is not allowed to walk out from the competition ground. Any accident will not be responsible by the organizer.
Minimum 34KM Men, 28KM Women for awarding Achievement Medal.
Achievement Medal will be awarded starting at 5:00am onwards, 8/12/13.
In order to be qualified for receiving cash prizes, the walkers must cover at least 50KM Men, 40KM Women Category in 12 hour walk. - Claus 9.01
Walkers Reporting Time: 7 Dec 2013, Saturday 2pm-7pm at Dataran Putrajaya.
LUCKY DRAW PRIZES!

Announcing the lucky draw for the 12 Hour Walk!

Important: Only Participant that completed 12 hour walk will stand a chance to win the lucky draw after the prize presentation at 8.30am, 8/12/13.

1 x Samsung 32' LED Series 4 Smart TV
1 x Samsung Galaxy Note 10.1'
1 x Samsung Galaxy Note 2
REGISTRATION FEES INCLUSIVE.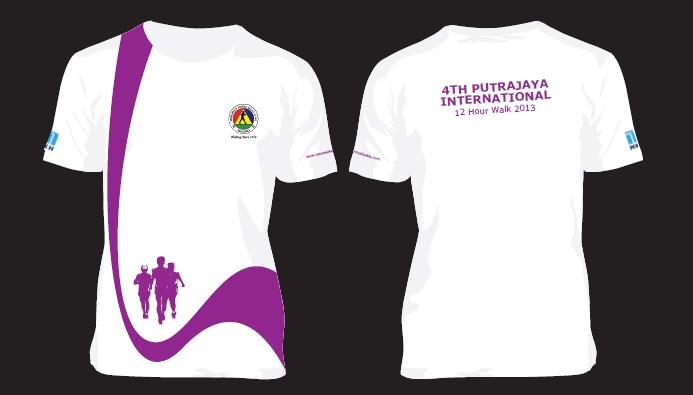 Walkers' Number Bib, FREE T-Shirt & Other Sponsors' goodies.

Four (4) Refreshments / Meals (Halal: Healthy Food) provided during the 12 Hours (11pm, 2am, 5am & 8am).

Ever ready professional medical team (12 Hours) to assist (Foot & Leg Treatment / Massage).

Unlimited Isotonic / coffee & tea / water provided during the 12 Hours.

One (1) Achievement Medals (Minimum Distance - Men's 34KM, Women 28KM) - Claus 8.06

One (1) Certificate of Participation (Minimum Distance - 10KM) - Claus 8.05
Start: December 7, 2013 – 2000 hours (Sat) - 8pm Sharp

End: December 8, 2013 – 0800 hours (Sun)

Registration Fees: 12 Hour Walk + 50KM [2 in 1 Package]

Closing Date: 7 November 2013

RM95.00 - Before August 14, 2013 (Early Bird)

RM115.00 - Aug 15 to Oct 7, 2013 (Normal Entry)

RM150.00 - Oct 8 ~ Nov 7, 2013 (Late Entry)

(RM10.00 discount for RWAM Member)

Download: Route Map - Update: 27 Nov 2013
OPTION 1: Online Registration

Now you can online register your MKH Putrajaya International 12 Hour Walk entry by using VISA or MASTERCARD at www.themarathonshop.com.my
OPTION 2: By hand

Kuala Lumpur FTAAA (Mon-Friday)

Walkers who wish to submit the entry forms by hand / mail to FTKLAA office. You may submit it to 2nd Floor Wisma OCM, Jln Hang Jebat 50150, Kuala Lumpur.

Working hour Mon-Friday (9.30am~5.30pm) Saturday (9.30am-12pm)

[view map]

-----------------------------------------------------------------------------------------

*NOTICE:

Entry forms can be photocopied. Soft copy can be downloaded from this page. Please make payment by "Cash or Cheque" at the FTKLAA office.

Receipt will be issue upon request!

----------------------------------------------------------------------------------------

--------------------------------------------------------------------------------------------------------------




BANK ACCOUNT INFO:

Name: Persatuan Lumba Jalan Kaki Malaysia

Bank Number/code: 514 011 717 390 - MAYBANK

Bank Country: MALAYSIA

Bank Branch Address: No. 100, Jalan Tun Perak, 50000 Kuala Lumpur.

SWIFT Code/IBN Code: MBBEMYKL

Bank Account Currency: Ringgit Malaysia (RM)

--------------------------------------------------------------------------------------------------------------